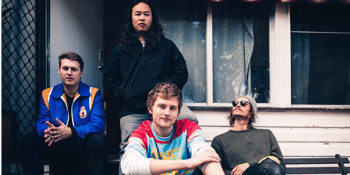 123 Agency
Fripps & Fripps 'Keen For a Can' Tour - FREE SHOW
Supports to be announced
Greaser Bar (Fortitude Valley, QLD)
Friday, 9 August 2019 8:00 pm
THIS IS A FREE SHOW

With a mutual addiction to ice cold aluminum cylinders and cheap Mexican food, Fripps & Fripps debuted on the Sydney music scene around 3 years ago, With an EP under their belt, the Cronulla based band have been tucked away at Parliament Studios in Sydney, recording the songs that will make up their sophomore EP, 'Keen For a Can'.

"Keen For a Can' doesn't simply convey the desire to grip an ice cold aluminum cylinder in ones hand, which in itself is a thing of true beauty. To be 'Keen For a Can' is to be ready for what is right in front of you, to put all the noise that steals your focus aside and dive into the moment happening right in front of you. Too often we are focused on things that are happening far away from where we really are, bombarding our lives with unnecessary content that we were previously oblivious to.

Fripps & Fripps will be releasing their sophomore EP titled 'Keen For a Can' on June 28th 2019. The Release will include their last 2 singles 'Cigarettes for Breakfast' & 'Pest Control' along with 4 brand new songs that continue on an indie rock.UK influenced wave length, drawing predominant inspiration form Catfish & The Bottlemen, The Kooks and The Wombats.