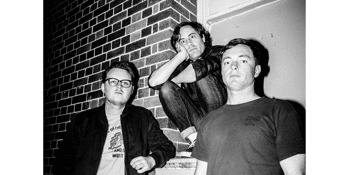 123 Agency presents
Deluso at Bloodhound Bar
Bloodhound Bar (Fortitude Valley, QLD)
Friday, 24 August 2018 8:00 PM
Hailing from the country's sunshine state, Deluso is one of Australia's newest pop/punk/rock acts. Having performed with a myriad of Australian bands in the past six months (West Thebarton, Dear Seattle, Slowly Slowly + more), these Brisbane locals are on track to make a big splash in the scene.
Having released their debut single "Rheumatic" in early 2017, the three-piece outfit continued out the year playing a variety of mostly local shows and events around the dimly-lit, beloved music venues of Brisbane's punk scene.
They received great reception from local audiences, and released their second single "Don't Look" in late 2017, which saw them gain 20,000 streams (Spotify).
The band have experienced a bigger wave of interest in what they are up to, with the track receiving positive reviews and being added to multiple playlists on Spotify including Triple J Unearthed's "Best New Music", as well as air time on radio stations 4ZZZ and Triple M helping enable Deluso to reach new listeners.
The timing of this new-found attention could not be better, with the release of the group's debut EP, titled "Floods" now upon us. Highlights from the six-track EP include work recorded and mixed by engineer Darek Mudge in the renowned The Shed Recording Studios (RIP) which has seen the likes of some great bands including Screamfeeder, Violent Soho and Deafcult to name a few.
Floods is out now